DEALER DISCOUNTS
TAKE ADVANTAGE OF UP TO $3,000 TRADE & $1,000 FINANCE DISCOUNTS (PER VEHICLE) ON ALL INVENTORY.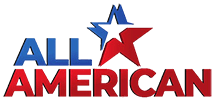 About Discounts
Discounts are not just a way to save money. For new and current customers, it is our way of saying we appreciate you being a part of the All American family. Discounts will also change periodically, so please check back often for the latest opportunities to save!
 Dealer Discount
New & Used Vehicles come with a built-in discount at All American Chrysler, Dodge Jeep & Ram. We want you to be a part of the All American family for life and that starts with passing savings on to you.
Every qualified trade receives a $1,000 discount on used and $3,000 on new vehicles.  Not sure what your trade is worth? Check below to see your Trade Pending estimated value. Qualified trades are seven years or newer and less than 120,000 miles.
If you choose to finance with us, your new and used vehicles will be discounted an additional $1,000. Yes, it's that simple! Want to get pre-approved so we can shop for the best rate? Get a head start on financing below.